Why choose Boem Club Music School for your musical education?
Boem Club Music School is the first and the largest private music school in Romania. We have experience in developing highly successful music lessons demonstrated by the numerous awards won by our students in competitions and festivals. 
We have 3 offices located in three strategic areas in Bucharest: Boem Club Alba Iulia, Boem Club Cotroceni, Boem Club Dorobanti, 7/7, 9:00-21:00. Boem Club headquarters are located in 3 cozy and friendly villas.
We have a young and professional team, consisting of approx. 45 music teachers graduates of the National University of Music and experienced in teaching.
We offer individual and group music lessons, at the following instruments: piano, guitar, violin, singing, cello, percussion, saxophone, clarinet, oboe, flute, block flute, in Romanian or English, regardless of musical level (beginner, intermediate, advanced).
All the students who opt for music courses at Boem Club can participate for free at the weekly workshops of musical theory and history.
We offer the opportunity to practice for free on our instruments at our offices, in the hours when there are no classes scheduled, by appointment in advance.
We have performing musical instruments.
We organize quarterly auditions class in our offices and twice a year we organize concerts for our students on particular scenes.
For about 10 years, over 600 students attending weekly music classes Bohemian Club, being satisfied with their level.
Because Boem Club is the largest and most important private school of music in Bucharest.
The Boem Club team is a young team, made out of professionals who address themselves to all students and music lovers with the same goodwill, patience, responsibility and respect.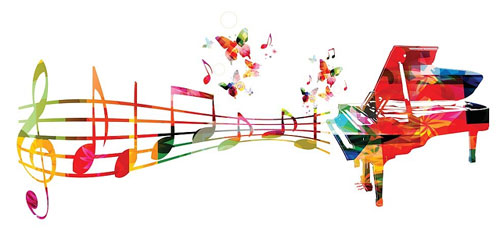 What do our students say about us?
"Today we has saxophone and piano classes. The courses were held online, on Skype. Although we had considered initially WhatsApp, the transmission was better on Skype. The internet was home usage network. It is not a pretentious net, it is not even fiber, so the guaranteed traffic is weak. Therefore, it means the internet need for transmission is not a big one. The courses went very well. The children were more than delighted. They communicated very well both audio and video with the teachers. They received the music scores immediately. Victor, for example, received for saxophone and audio files to support his improvisation backing. One by one, we will continue to work online. It is an excellent solution that we consider furthermore even when the current situations with this virus will dissapear. Congratulations for adapting!"
"I express my satisfaction and gratitude for the wonderful team from Boem Club with great joy. Wonderful people, family like atmosphere, encouraging smiles and unconditioned kindness – this would be a brief description of the environment in which you arrive when you enter the doors of Boem Club. The best barometer for me and my daughter, Karina, age 12, who from the first day loved these people (all these people-I couldn't name them), so that I had to convince her (after 5 hours) that it was time to go home. As it is well known, where there is an adequate setting the progress comes along. I say it with great honesty- for us, the fact that we got into this family is a big win and I thank you for this".
"I was very impressed by the show "Winter Story", to be honest. I grew fond of the place and the atmosphere and it has been a great pleasure for me to participate at the two concerts at which I was. Strictly speaking of the classes which I attend (canto), these take place professionally in a very pleasant environment. As a conclusion, I recommend Boem Club to anyone who wants not only to take music lessons, but also to live the atmosphere of a musician. Keep up the good work, I wish you success and don't ever give up doing things with your heart."
"I found at Boem Club what I had hoped. The music is in a warm atmosphere, close to the children, but a professional one. The young teachers are the ones who make the children want to come back again. At least this happened to us. At the beginning it was my idea, now my little girl comes because she wants. The rest is up to the diligence and the talent of each. But of course, these special classes will always remain in our soul. This is what I want. Thank you, Boem Club and thank you, Nora!"
"I believe that Boem Club is an authentic school of music, with dedicated and very patient teachers. I am very satisfied with my daughter's performances at the piano. The merit is granted to the teacher as well who, besides being talented, proved to be dedicated and very patient. My daughter waits impatient for the piano classes especially for meeting her teacher. Generally speaking, in respect to the Boem Club school staff I can only congratulate the managers for what they have chosen."